Tun must take responsibility?
This man is no ordinary mortal. At the age of 94, he leads a nation almost terminally ravaged and savaged by corruption. You want to know how deeply embedded into the Malaysian psyche corruption is? Simple. First, ask yourself if you have been the victim or recipient of corruption? You say "NO" to both? Then ask yourself if anybody you know, anybody at all from your spouse to an acquaintance you have just met, has any of them told you that they have been the victim or recipient of corruption. Still a "NO". Where have you been? DI bawah tempurung? Anyone who has had to work for a living, anyone who had driven a motorcycle, a car, a lorry. Anyone who has had to have dealings with the government. With the authorities. And for some unfortunate few, anyone who had needed assistance and medication to breathe to keep themselves alive. Every one of them, every facet of our lives from cradle to grave, has been affected by this scourge of corruption. And you and I elected this 94-year-old man to save us all? To save our country and our future from corruption? Why did we do that? We did so because this man, Tun Dr. Mahathir is no ordinary mortal. We actually think that at 94 he is the man who will be up to the task we now ask of him! The task of bringing a new dawn to the darkness that we have just emerged from after Umno has had their way with us!
And now what do we have yesterday ?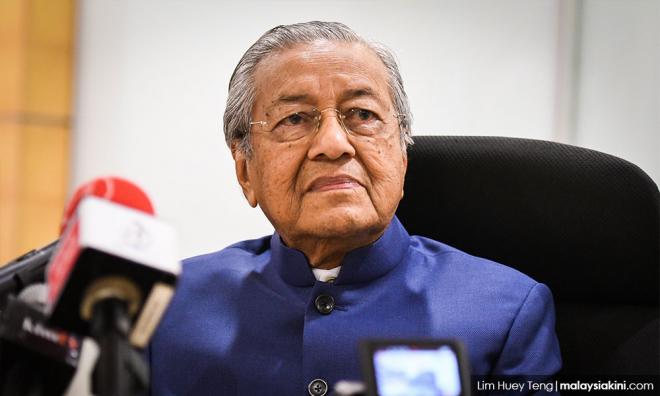 PM must take responsibility for by-election defeats, says DAP MP
As the head of government, Dr Mahathir Mohamad must take responsibility for Pakatan Harapan's defeat in five by-elections, including Kimanis in Sabah over the weekend, said a DAP lawmaker. Commenting on the erosion of support for the coalition and the warning that it could be a one-term government, Ramkarpal Singh said the prime minister's statement that he is willing to work with former foes also does not bode well for Harapan. "The PM's confirmation that he is open to working with anyone, as long as it is not former PM Najib Abdul Razak implies that Harapan may work with the likes of Umno and others which were convincingly voted out in GE14. "This certainly does not inspire confidence in Harapan's commitment to real reforms, the platform on which, it achieved the impossible in GE14 by defeating BN after 61 years in power," he added in a statement this afternoon.
Really Ramkarpal Singh? This 94-year-old man must take responsibility for PH's defeat in five by-elections? What else must this old man take responsibility for? Do you, as a DAP lawmaker, not know that it is the constant undermining of your own leader that is making PH weak! Why did a DAP lawmaker like you not have the balls to stand up to Tun and tell Tun that he should not have appointed Syed Saddiq and Maszlee, among others, to the Cabinet? Why did you not tell Tun that he should not have pardoned Anwar because it is not the right thing to do? That Tun should not have attended the Kongres Maruah Melayu? That Tun should have deported Zakir Naik the first opportunity he had? What else? That your Gobind Deo should not have been appointed as Minister because he is not fit for purpose? i.e. he does not have a clue as to what he should do as Minister of Communication? Where were you Ramkarpal when all this needed to be said? Hiding behind that "DAP Lawmaker" skirt? Be a man! If you want to stand up to your leader in whom you no longer have confidence in, RESIGN first. Is that not the right thing to do? RESIGN and then voice your dissensions. Because surely you subscribe to the mantra of "collective responsibility" among the cabinet…do you not? 
This comment by Ramkarpal is totally unnecessary. This is political opportunism at its very worst. Ramkarpal is doing this to win brownie points within that closed myopic circle of his supporters who may see him as being "courageous" enough to go against leaders in DAP and in PH and hence, to them, it will be an endorsement of his "ability to lead" DAP in the future. Huh! I do not see him being anything else than NOT being a team player!
Common sense tells us that if there is to be any dissension within PH ranks, do so behind closed doors. This constant undermining of PH leader in public makes PH weak. It must stop. Resolve all issues behind closed doors.  If anything goes wrong in Government, then everyone in Cabinet takes collective responsibility.  Anything else shows immaturity and political opportunism at its worst. Ultimately it is the Pakatan Harapan council that must decide and take responsibility for the state of this PH government. For Ramkarpal to blame Tun Mahathir alone for the defeat in those byelections is cowardly. 
if you are concerned about the possibility of a PAS alliance, then confront Tun with that possibility. But do so behind closed doors. When Tun had the courage to appoint a DAP lawmaker as Finance Minister, did Ramkarpal said good? When Tommy Thomas was appointed as AG and the first woman was appointed as Chief Justice, did Ramkarpal say good? If he did not, why not? Understand this Ramkarpal, If there is one thing this old man must take responsibility for, it is putting a DAP guy like you into political power.  Tun is responsible for without Tun, you will NOT be in power! Have you thanked him for that?
And while you are at it, thank Tun for the leadership he gave to PH to enabled PH to win government from a kleptocratic BN government. Thank Tun for giving Malaysian everywhere hope that there will be a change for the better. Give thanks to Tun that our elected leaders in PH will stop pillaging and plundering our nations coffers because Tun is the leader of that PH government. Ramkarpal bow down low and give thanks that at 94 this old man chooses to use his "superpowers" to do good rather than to do evil. 
st47